There are lots and lots of books being turned into movies these days, and while we're all familiar with Hunger Games, Divergent, and Maze Runner, here are a few more adaptations to look for in the future. Now's your chance to check out the book before you see the movie!
The 5th Wave by Rick Yancey
After the 1st wave, only darkness remains. After the 2nd, only the lucky escape. And after the 3rd, only the un lucky survive. After the 4th wave, only one rule applies: trust no one. Now, it's the dawn of the 5th wave, and on a lonely stretch of highway, Cassie runs from Them. The beings who only look human, who roam the countryside killing anyone they see. Who have scattered Earth's last survivors. To stay alone is to stay alive, Cassie believes, until she meets Evan Walker. Beguiling and mysterious, Evan Walker may be Cassie's only hope for rescuing her brother–or even saving herself. But Cassie must choose: between trust and despair, between defiance and surrender, between life and death. To give up or to get up.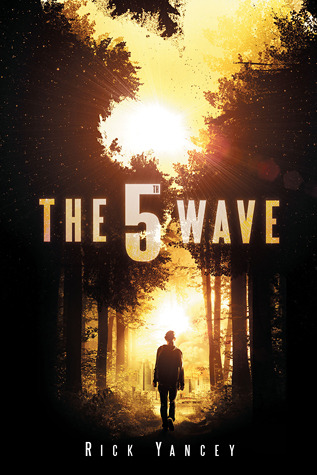 Pssst…we're also having a special 8th-12th Grade Book Club meeting on Friday, November 20, 3:30-4:30 p.m. at the Peace Dale Library where we'll discuss the book and talk about the upcoming movie!
Miss Peregrine's Home for Peculiar Children by Ransom Riggs
In March 2016, director Tim Burton brings this creepy, picture filled novel to life. When his beloved grandfather leaves Jake clues to a mystery that spans different worlds and times, he finds a magical place known as Miss Peregrine's Home for Peculiar Children. But the mystery and danger deepen as he gets to know the residents and learns about their special powers…and their powerful enemies. Ultimately, Jake discovers that only his own special "peculiarity" can save his new friends.
Before I Fall by Lauren Oliver
For popular high school senior Samantha Kingston, February 12–"Cupid Day"–should be one big party, a day of valentines and roses and the privileges that come with being at the top of the social pyramid. And it is…until she dies in a terrible accident that night. However, she still wakes up the next morning. In fact, Sam lives the last day of her life seven times, until she realizes that by making even the slightest changes, she may hold more power than she ever imagined.
This one doesn't have a firm release date yet, but last month Zoey Deutch (Emily in Beautiful Creatures and Rose in Vampire Academy) was cast as the main character of Samantha:
What do you think? Good choice? Bad choice? Who would you have picked?
And more importantly, what book do you wish they would make into a movie???
---